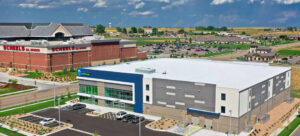 BlueMountain Self Storage of Johnstown
About Our Host – Blue Mountain Self Storage
BlueMountain Self Storage is a brand new, state-of-the-art self storage facility that offers competitive pricing for commercial and residential storage with amenities & service you'd never expect at a self storage facility. We offer 100% climate-controlled indoor storage units, loading docks, dollies, carts, and a free truck for moving in.
Modern solutions for the next generation of storage. No lock, no problem. BlueMountain SS is the first to bring Storage Smart Entry by Noke to Northern Colorado. Using our Bluetooth connected app we've replaced all the headaches of traditional storage you find anywhere else. Learn more about our amazing amenities by checking out our features page or stopping by our office for a tour.
---
Contact Details: 
Phone:
720-6508745
Website:
BlueMountain Self Storage Website
Sign Up for TableTop Networking ...